Diamond Financial has been assisting buyers of business acquisitions/resales for over 20 years!
Diamond Financial has over 30 preferred PLP SBA 7(A) "cash flow" Banks that we work with.

A specialist is
needed during these times to get the best funding in a timely manner.
Diamond Financial specializes in Business Acquisition Loans Nationwide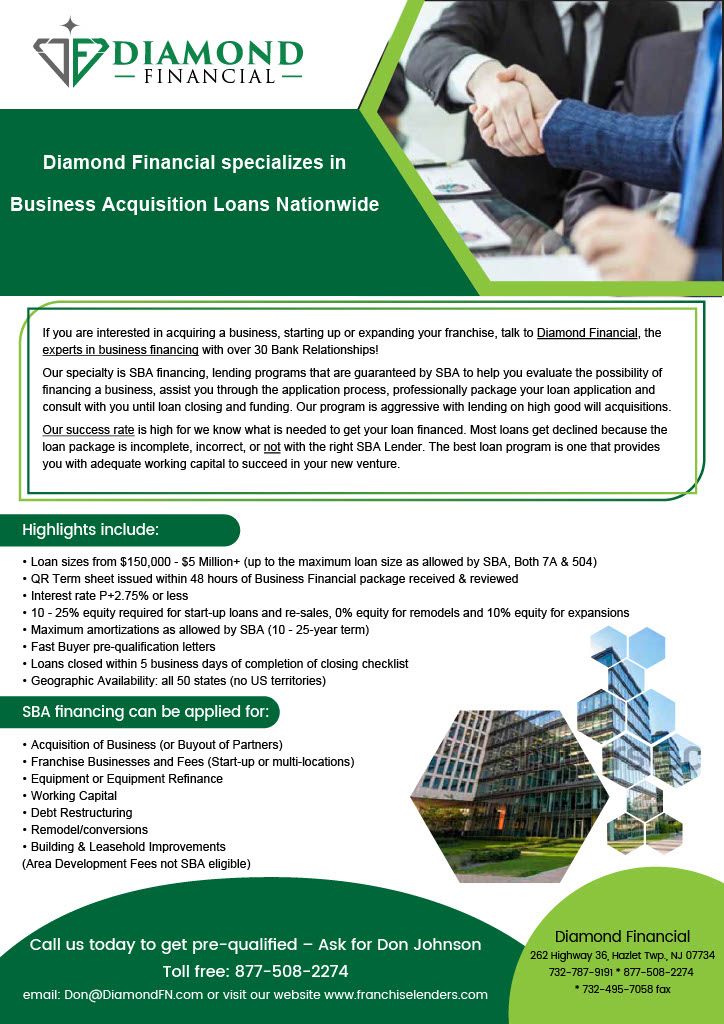 If you are interested in acquiring a business, starting up or expanding your franchise, talk to Diamond Financial, the experts in business financing with over 30 Bank Relationships!
Our specialty is SBA financing, lending programs that are guaranteed by SBA to help you evaluate the possibility of financing a business, assist you through the application process, professionally package your loan application and consult with you until loan closing and funding.
Our program is aggressive with lending on high good will acquisitions.
Our success rate is high for we know what is needed to get your loan financed. Most loans get declined because the loan package is incomplete, incorrect, or not with the right SBA Lender. The best loan program is one that provides you with adequate working capital to succeed in your new venture.
Start the Pre-Qualifying Process
Buyers: Get pre-qualified (no cost or obligation) and learn your business loan potential in 3 easy steps: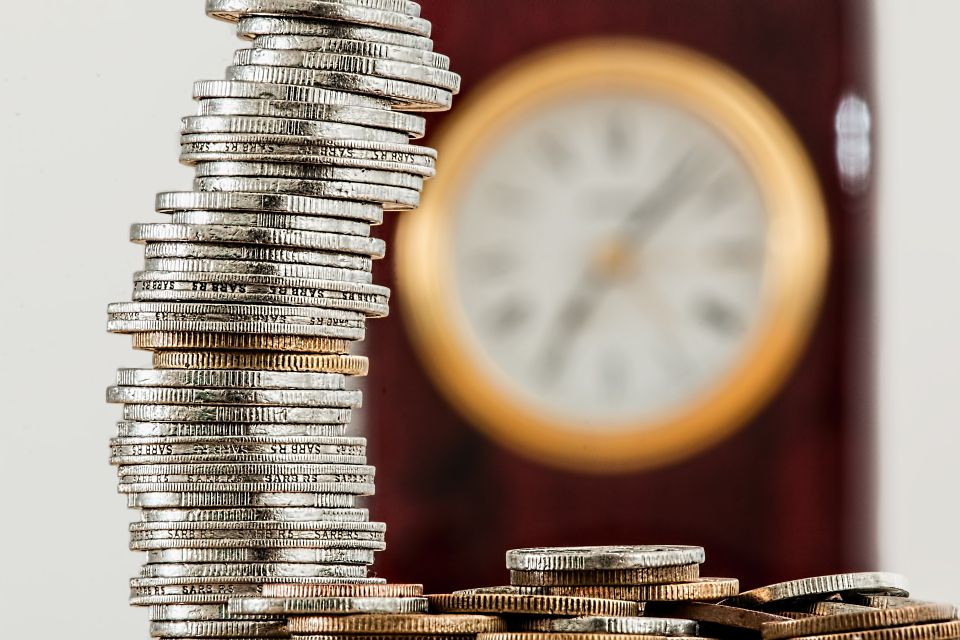 Business Acquisitions:
For nearly 20 years, Diamond Financial  has been financing Business
acquisitions (resales) nationwide with high success rate on loan sizes from $150K - $5 million (SBA), $750K - $10 million+ (FranBank Conventional non -SBA) and $25K

$150K (FAST Plan – Alternative lending programs) such as UBLOC, Consumer
Business Loan, Diamond Retirement Funding and LeverageLine.

At times, it requires a combination of the above, including a funding strategy to finance the down payment which is required for SBA and FranBank. Because of our experience with loan packaging and diversity of lending programs and Banks we work with continue to make us a leading source in the industry with a top reputation.

You need a loan specialist to maximize your chance of approval. It is simply too risky to do it on your own. Banks are inconsistent and are always changing their loan criteria, loan sizes, preferred industries and success rates. Most banks look for reasons to not finance a business purchase.

Our lenders are mainly "Cash Flow" oriented and look for ways to get your loan request approved and funded!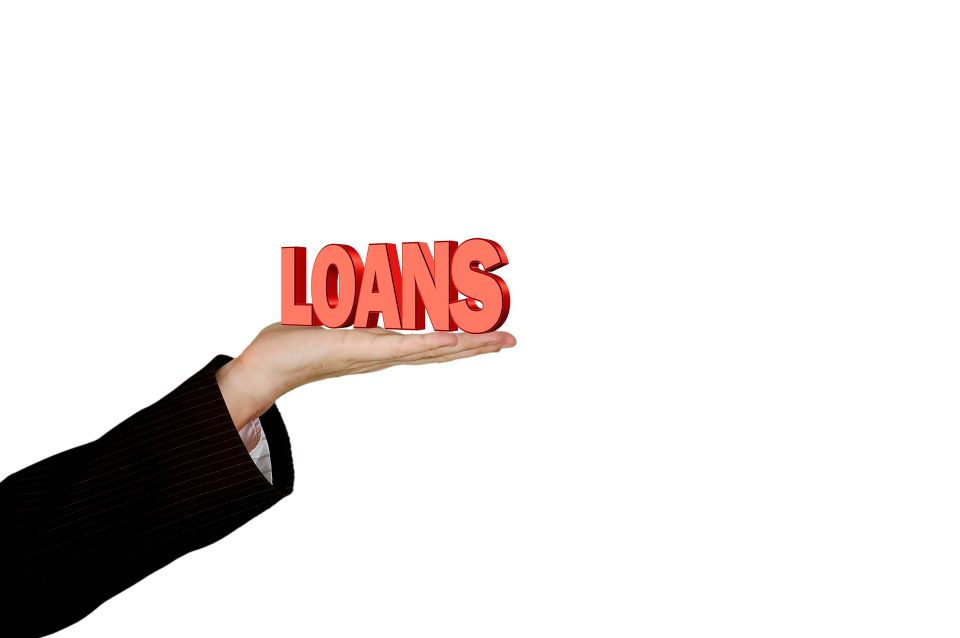 Highlights of our Acquisition loan program include:
No cost, fast pre-qualifying of the financials of the business you are looking to buy.
1 – 2 day turn around on Q.R. Term Sheets (once a business is pre-qualified for a bank loan)
Same day or next day personal pre-qualification letters (upon review of our personal financial statement (PFS). We do not pull credit
Assistance with listing business broker (if available) to gather financials to assess cash flow review.
No application fee (SBA Loans)
Quick loan packaging with assistance on loan projections and business plan.
Your complete, custom loan package sent to strategically chosen and best "Cash Flow" preferred (PLP) SBA bank or FranBank Conventional Lender.
Faster loan process (with our overseeing and managing your loan file)
Review of loan approval letter (Commitment Letter) to confirm best possible rate and terms
Provide continued services to make sure your loan closes (funds) in a timelymanner
Multiple Banks on file in case of any issue, including having to repackage your loan request.
We will do your "Loan Shopping" for you, saving you time and stress and money!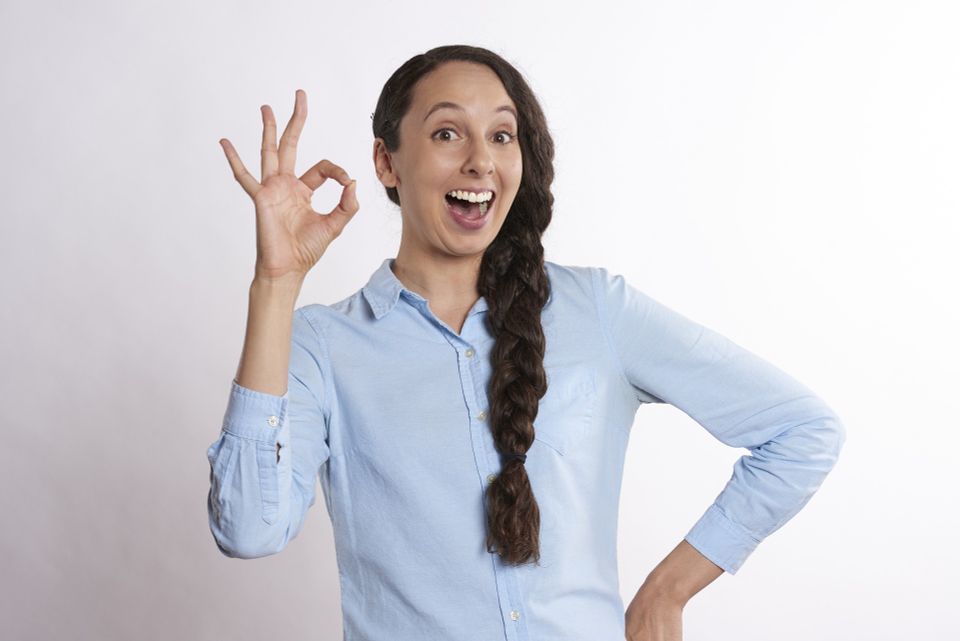 How to get started:
1. Give us a call at 732-787-9191 for initial finance consultation on loan potential.

2. Complete PFS (Personal Financial Statement) see below, and return to us.

3. Follow up discussion for pre-qualification letter. 
 
Personal Financial Statement Form
SBA uses this form to assess the financial situation of applicants for multiple SBA programs and certifications.

Diamond Financial does not pull credit reports & there is no cost to get pre-qualified. 
Download "SBASBA-expressDRF (1)PFS.pdf"
START your pre-qualification today!

Personal Financial Statement Form
PDF
SBA uses this form to assess the financial situation of applicants for multiple SBA programs and certifications.

Diamond Financial does not pull credit reports & there is no cost to get pre-qualified. 
Why do loans get declined?
Partner with Diamond Financial and recruit the expertise you need!

Loans are initially declined for many reasons. They usually stem from the borrowers inexperience and lack of knowledge of the loan process and criteria. If they have limited experience in applying for a business loan, you may experience the following:

UNCERTAINTY OF LOAN REQUIREMENTS


Do they really understand the bank or financial institution requirements to successfully get the loan approved?



POORLY PACKAGED LOANS


 Do they have the knowledge and ability to professionally present a loan package worthy of full consideration?



INABILITY TO TALK TO LOAN OFFICERS


 Do they understand the guidelines and concerns that underwriters have in evaluating the merits of there loan application. Do they know the people they are talking to?

 

WRONG SOURCE


 Banks are always willing to look at your application, but will they approve it? Can they possibly know or understand their written and unwritten priorities and ever-changing policies or guidelines?
We are specialists in SBA financing. Under the current economy and based on the favorable terms offered, SBA is clearly the best option to obtain business financing. We are not the direct lender but we work with some of the leading financial institutions. We know which offices aggressively are dedicated to committing to SBA loans. Unlike many in the industry, we do not charge any upfront commissions for our expertise and work on your application, We will help you:

PROFESSIONALLY PACKAGE THE LOAN APPLICATION


Whether it is to prepare the application, request sufficient documentation, preparing sales projections or the write-up of convincing summaries, Diamond will assist the buyer in presenting a package lenders will take seriously.

STRUCTURE BUSINESS


Business and loan structure, partner relationships, and ability to emphasize strengths over weaknesses are just some of the issues. Diamond Financial works with the buyer to structure the loan in a palatable and positive way so the loan application has the best chance for approval.

DEVELOP AND ANALYZE BUSINESS PROJECTIONS


 Revenue and sales projections need to be prepared in a convincing and realistic way to achieve success. These loans are cash flow driven meaning there needs to be sufficient expected revenue over expense ratios so loan obligations can be met.
EFFECTIVELY COMMUNICATE THE MERITS OF THE LOAN APPLICATION


We talk directly to the underwriters not the loan processors. We know what is important to our lenders and we keep the loan moving in order to speed up the loan process. We know what concerns our lenders and our experience in working out issues or obstacles can be invaluable to your buyer! Our daily experience in working with loan officers helps them in many ways. We have easy access, solid on-going communications, professional credentials and a mutual confidence level with lenders that produces results and commitments. We know what our lenders are looking for and expect!

SELECTING THE RIGHT LENDER


There are many written and unwritten guidelines that really determine the lenders sincere interest in your application. By working with our lenders on a day-to-day basis, we know if there are changing guidelines or criteria that may help or hurt your chances. Our pool of leading nationwide lenders gives us many financing alternatives. Our creative solutions to structure and financing and our knowledge where to place applications is why we will get the best and quickest results!
Recently Funded Acquisitions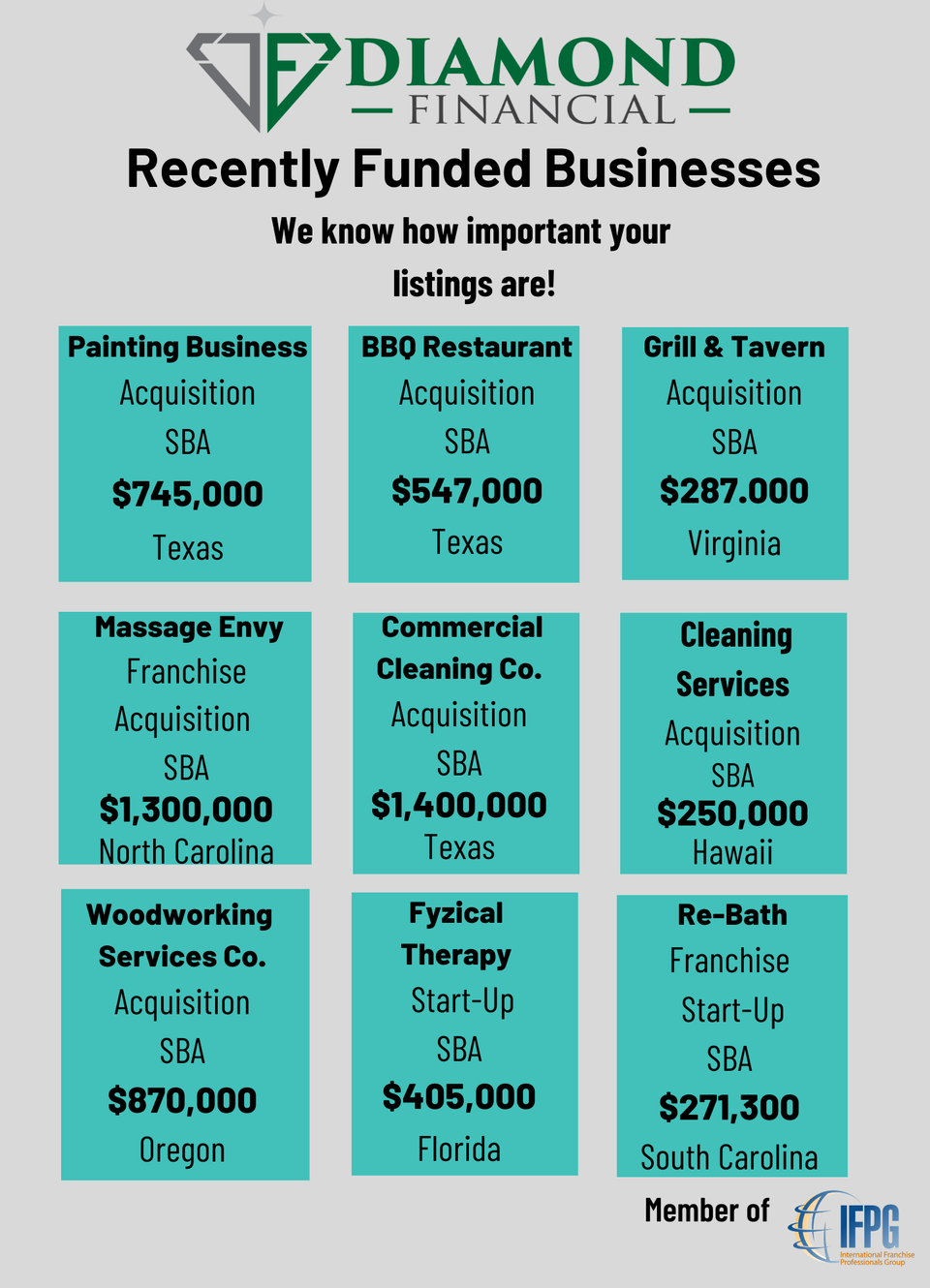 We are your Number #1 Source For Business Acquisition Loans Nationwide
Our high success rates gets more Businesses sold in a timely manner!